I should just accept that I am a "wear-all-black-all-year-type-of-person". My mom has ingrained in me that I should wear more colors and every time I put on all black outfit, especially during summer I'm like…  "Oops, I did it again" (do you hear Britney?)
I am proud of my shades of charcoal to heather gray collection as well, let's not forget.
I make it to German class on time today and the teacher says "Hallo Falasha, das schuhe sind interessant. Du bist ein Dominatrix. Wo kaufen in der Schweiz?" 
My German isn't that great yet, but it was roughly as above.
I decided to take it as a compliment. Roughly telling me my shoes were interesting and asking if I bought them in Switzerland, and the whole Dominatrix option… well I have worn all black to class almost everyday.
So I have come to the conclusion.
I am Falalsha and I wear all black!
If it wasn't for this blog I probably wouldn't wear as many colors as I do.
Black just looks so cool.
Since I have been going crazy about list lately. Here  you go:
 Top 3 Reasons to Wear all Black All Year!
1. It makes you (look) skinny!
2. It looks So Sexy, Cool, Laid Back (pretty much anything you want it to be)
3. It's a lot easier to wear make up with black!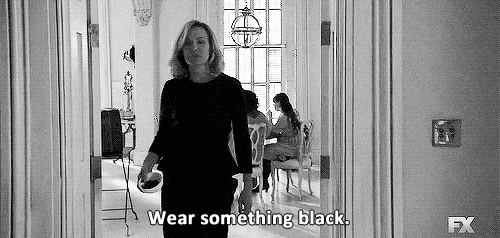 References:
Great support group for Team All I Wear is Black because I do my research here are 9 sites if you are struggling to add a little color to your wardrobe, don't feel bad.
Follow me on Bloglovin' and I will be sure to follow back!